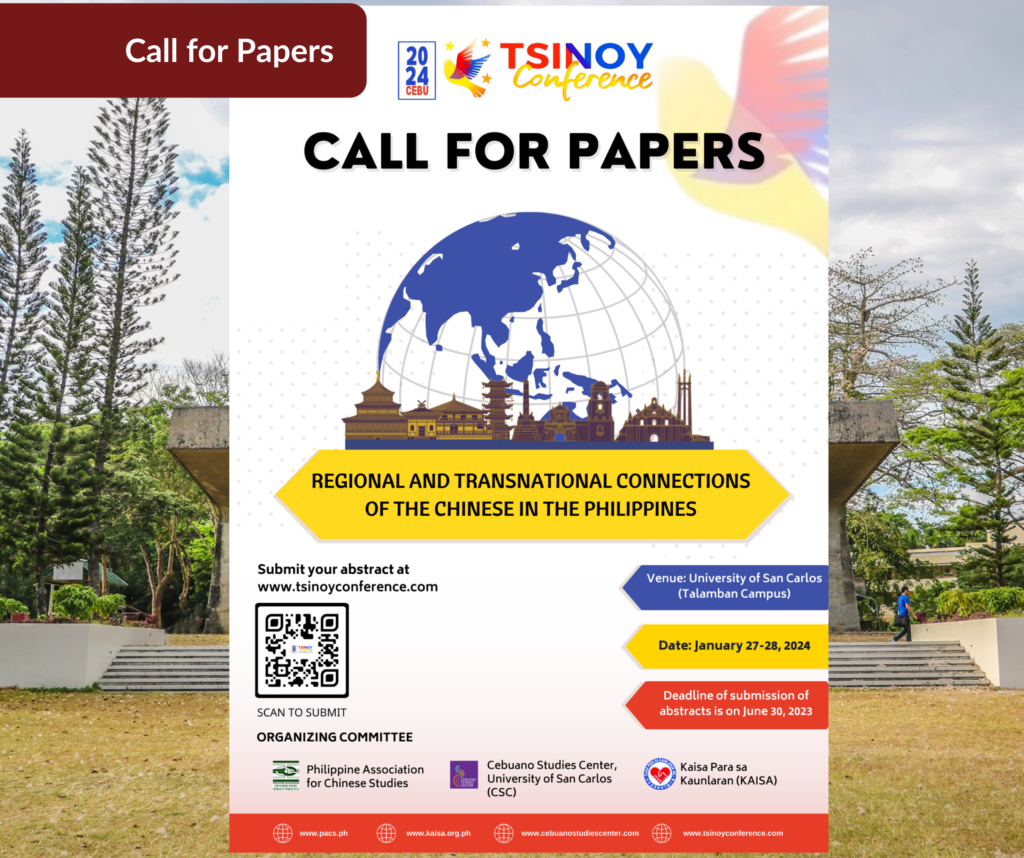 The Philippine Association for Chinese Studies (PACS) together with Kaisa Para sa Kaunlaran (Kaisa) and the Cebuano Center Studies of the University of San Carlos invites you to submit an abstract or a panel proposal for the 2024 Tsinoy Conference that will be held in Cebu on 27-28 January, 2024.

This conference seeks to build on the themes of previous scholarly efforts by calling for works on the Chinese and the Chinese-Filipino experience in the Philippines that focus on different regions of the country, with a special emphasis on locations outside of Metro Manila.

The organizers seek papers from different fields of studies in the social sciences, humanities, sciences, and area studies. Individual papers or panel proposals consisting of four papers at the most are welcome. Papers on oral histories, genealogies, and other research sources are also encouraged.

The conference program will include a visit to the Sugbu Chinese Heritage Center.

Presenters are also encouraged to submit their papers to the Chinese Studies Journal (CSJ) for consideration in Volume 18 (2024).

Important Dates

Submission of Abstract and panel proposals: 30 June 2023
Notice of Acceptance: 30 September 2023
Submission of Paper: 30 November 2023
CONFERENCE: 27-28 January 2024
Submission of final papers for consideration in the CSJ: 01 March 2024

For information as well as to submit an abstract or a panel, visit the event's website: http://tsinoyconference.com/952-2/

For more details, visit https://tinyurl.com/TsinoyConference2023
Graduate School of International Development,...